When designing your challenge coin, changing the plating option can completely alter the look and feel of your coin. Since the challenge coin's plating plays such a vital role in the overall aesthetic of your coin, we've put together this article to help you learn a bit about our available options, and how you can leverage each one to improve your custom challenge coin design. However, before we begin, let's take a quick look at just what a challenge coin's plating is!
First, a little bit about Challenge Coin Plating Options
The custom challenge coin's plating refers to the metallic finish on the surface of the coin. Our most popular options are either polished or antique gold and silver, but we also offer a variety of other finishes as well. Most of our challenge coin plating options are done using a process called electroplating. Electroplating is an application process which chemically bonds the plating metal to the surface of the base metal. The chemical bond is a permanent bond, meaning it is not coming off! So you don't have to worry about your coin's plating chipping or peeling. Two other plating processes we use to create our challenge coins are powder coating and anodization. Powder coating is an electrostatic process used to color metals. With powder coating you can make the metal any color you want, but our most common powder coated metal finish is Black Metal. The last process we use, anodization, is an electrochemical plating process that gives the metal a really cool rainbow-like finish.
Polished Challenge Coin Plating
All of our polished challenge coin plating options are created using an electroplating process that creates a permanent chemical bond between the plating and the base metal. Polished Gold and Silver are our most popular finishes, but don't forget about copper! If you're looking for a "rose gold" finish, copper is the perfect option. One thing to consider when choosing a polished plating is what colors you will be incorporating into your challenge coin design. All three options look great with dark colored enamel fills because it creates great contrast, but they don't always pair well with lighter colors. This is because there is less contrast between the metal and the color fills, and that can make raised metallic wording harder to read.
Antique Challenge Coin Plating
Our Antique Plating is a wonderful upgrade feature that lends the challenge coin a rustic, worn appearance. They are plated similarly to high polished challenge coins, using the electroplating process. However, after they are finish being plated, they are soaked in an antiquing solution that gives the challenge coins a dull, dark finish. They are then brushed, and this results in raised portions of the challenge coin becoming lighter while the recessed areas remain dark. This significantly increases contrast making raised elements pop (especially on 3D challenge coins). It also increases the legibility of raised metallic text. When someone wants to create a custom challenge coin with either 3D or raised metal text on a die struck coin, we almost always recommend choosing antique plating. This is because it vastly improves legibility, and makes 3D detailing much more exquisite.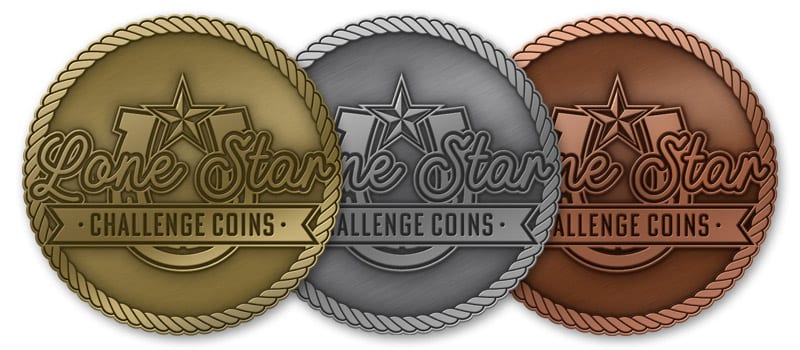 Dark Metal Plating Options
We have two different types of dark metal challenge coin plating options, black nickel and black metal, and they seriously couldn't be any more different! Black nickel is a dark polished plating that uses the same electroplating process as our other polished plating options. It is the go-to option for anyone looking for a hard enamel challenge coin with dark lines. Black Metal is created using a different plating process and because of that, it can only be used to make soft enamel challenge coins. The real deciding factor though generally comes down to two questions: How dark do you want your coin? and do you prefer a polished or matte plating finish? Black Nickel is more of a dark gray, closely resembles a gun metal color, while Black metal is pitch black and significantly darker. Black Metal also doesn't have a shiny, polished finish like that of it's black nickel counterpart. Either way you go, however, both make wonderful plating options!
Specialty Plating Options
We offer three types of specialty plating options: dual plating, colored metal and anodized metal (which is commonly referred to as rainbow metal). Dual Plating is when we combine two different plating options. Our most popular dual plating option is antique and polished gold and silver combinations. The only real restraint is when choosing metal combinations you have to stick to one plating type. This means that you can't have polished gold with antique silver, or visa versa. For example, anodized metal can't be dual plated because it is created using an electrochemical plating process that is unique to itself. You can go crazy though with metal combinations! Some of our favorite, and less ordered options, include black nickel with gold and black nickel with copper. The vibrant colors of the polished gold and copper really pop off of the dark shiny black nickel finish. Lastly, colored metal is just that, metal made any color you want! It's not a commonly ordered option, but we can use the same powder coating plating process that we use to make black metal to make red, blue or even green metal.
Conclusion
As you can see, we have a very wide array of plating options for your challenge coins! Keep in mind, the same plating processes listed here work for any of our other metal products such as lapel pins, custom belt buckles, and medallions! For a more traditional, and professional look we have our high polished plating options which include polished gold, polished silver, polished copper and black nickel. If you want a more more rugged, worn look, we offer antique options in gold, silver and copper. The contrast created by the antique wash also helps to highlight intricate detailing and makes raised metal text more legible. Lastly, we have a few specialty challenge coin plating options if you are looking for something more unique! These include polished and antique dual plating, colored metal, and anodized (rainbow) metal. Our available challenge coin options can be combined in a seemingly endless number of ways, so if you'd like some guidance or professional advise reach out to us. We'd be more than happy to help you create your own unique custom challenge coin!