While every challenge coin we make is truly unique, some really stand out amongst the rest. We've made almost every kind of coin imaginable, yet the creativity of our customers' imaginations continues to astound us. Some of the coolest coins we've made to date happen to be cut-to-shape challenge coins. That is because nothing is more uniquely gratifying than a challenge coin in the shape of something near and dear to you.

Cut to shape challenge coins are a wonderful option to help make your coin stand out. Like most things however, there are some do's and don'ts to making them Here are a few helpful tips to keep in mind when planning your design:
TIP #1 – Check the Dimensions
You should check your coin's dimensions anyway, no matter what kind of coin it is. But it's even more critical with cut-to-shape coins as they can have the illusion of looking larger than they actually are on the proof. For instance, these coins here are both 2". However, one is 2" x 2" and the other is 2" by 0.75". The largest diameters are the same, but the overall surface of the coin is significantly smaller. If you'd like to see exactly how big your coin will be, simply print off the proof we provided at 100%. If you need to increase the size, just let us know, and we'll take care of that for you!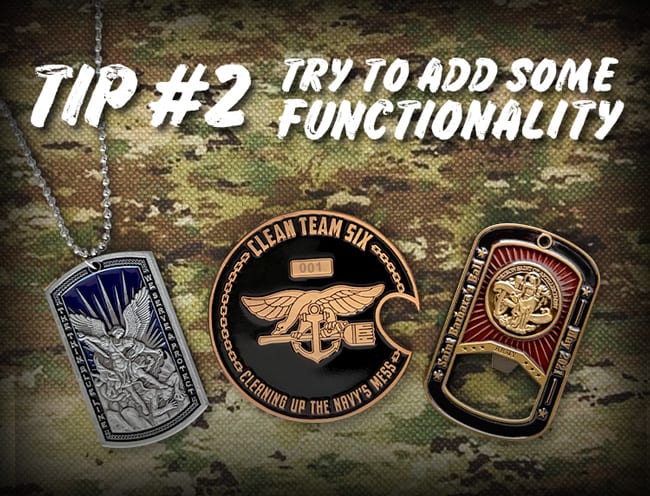 TIP #2 – Consider Adding Some Functionality
If you're going to make a custom cut-to-shape challenge coins, why not add some functionality? Using an existing cutout in the edge of the coin as a bottle opener is a great way to take your coin to the next level! Let us know If there is something you'd like to add specifically to your design. Our talented team of artists can help you find a way to incorporate what you want into your design.
TIP #3 – Save Some Cash by Reducing Cutouts
Sometimes, cutouts are essential for the design of a coin. Other times, they can be avoided. We want you to know what constitutes a cutout and how it can be avoided so that you can save money on your challenge coins! First, there are two kinds of cutouts: internal and external. Internal cutouts go right through the center and are surrounded on all sides by metal. External cutouts are when the coin's edge goes into the design, like with this coin in the shape of the coin. Cutouts are relatively cheap, but since each one adds 10 cents to the cost of each coin, they can add up.
TIP #4 – Avoid Making Parts Too Skinny
Plan your design so it doesn't have any long, skinny pieces sticking out (such as a flag, sword, etc.). If it does, that's fine, though. We'll automatically take care of making the design manufacturable. We may have to beef up the thickness or add some extra recessed metal around it for support, but it's nothing we can't handle. While this is a rare occurrence, we thought we'd point it out anyway to help you better plan your design.
TIP #5 – Use Your Imagination
Finally, the most remarkable thing about custom challenge coins is that they're, well… custom! We can bring your ideas to life and make anything imaginable. There are certain manufacturing limitations, but we can adjust your design for you and ensure they're up to spec! If you'd like some inspiration, browse our website for ideas or check out our posts on Facebook and Instagram. You can also find more information on our Challenge Coin Upgrades page if you need more information on ways to customize your coin.