WELCOME TO THE QUICKSTART GUIDE
Where we cover everything you need to get started!
FREE SHIPPING • UNLIMITED • FAST SERVICE • COMPETITIVE PRICING
100% TEXAS BASED STAFF & VETERAN MANAGED
Want more tips? Check out our comprehensive guide for more ideas on how to customize your challenge coin.
How to submit your custom challenge coin design
Submitting your custom challenge coin project request is easier than you think. If you've never created a custom challenge coin before, you will likely have a lot of question and that's expected. Common questions new customers often have are things like "Where do I get started?" and "How do I request a revision?". If you have the same types of questions keep reading. We're going to literally walk you through the entire process!
There are basically 3 steps to designing and ordering your your custom challenge coin
Communicating your design ideas
Once you have an idea of what you want for your custom challenge coin design, all you have to do is communicate it to us. There are a million ways to do that, and you don't need professional artwork. Just some reference images or a written description is all we need to get started.
We can work with virtually any file type with the exception of CorelDraw files (.cdr). Vector files such as .ai, .svg, .pdf and .eps files are our preferred file types as they are already vectorized and that helps with accuracy and turnaround times. However, if you don't have vector files, that is perfectly fine. We can vectorize an image for you and even improve it if needed. You don't need professional artwork to get started, just an idea. Sketches and written descriptions are sufficient enough for us to get started on your design!
Filling out the quote form
While we try to make our quote form as user friendly as possible, it can be a bit much for someone unfamiliar with all the various options we offer. When you submit your challenge coin project there are a lot of things to choose from such as product coloring, plating options, coin edges, and so forth. So if you're not quite sure about certain aspects of your design, just fill everything out to the best of your ability and we'll handle the rest. If you decide later that you'd like to see a different plating type, or add a coin edge you can do so at any time. With that said, lets take a look at how to navigate our quote form.
Page 1 - Choose a Custom Product
The first page is where you fill out all the information regarding your custom product. Even though we're best known for our challenge coins, we can actually create a variety of products for you. So the first thing you're going to want to do is select the product you'd like to create. Depending on the product you choose, you'll get a variety of product options such as size, quantity, plating, etc. If you're unsure of something just do your best to fill everything out. You can always change stuff later, so no need to stress over getting everything right the first time. If you have any artwork or reference files, make sure to upload them. Also, if you'd like to leave any written directions or comments regarding your project, you can leave those in the comments section at the bottom of the page. When you have everything filled out simply click "NEXT" and you'll move onto the second and last page!
Page 2 - Personal Information
Now that you've customized your product, all that's left is to fill out your personal information. We also ask you a couple other questions such as what your budget is and if you have a project deadline. Again, if you're not quite sure just fill it out to the best of your ability. The purpose of having these questions is just so we can better advise you. Once everything is filled out and completed, click "SUBMIT" and it will pass you on to our confirmation page. We can generally get your free proof and quote to you the same day, but please allow up to 48 hours. If you still haven't received your proof and quote by then, please reach out to us to make sure we've got it in the works. 
2. Receiving your Free Proof & Quote
Okay, so now you've submitted your project inquiry, but what happens next? Once you submit your project, we create a project file for you and it gets added to our design queue. Then one of our talented in-house designers looks over the project specifics and begins working on your custom product design. Once the vector design is completed, they put it into Photoshop and make a digital rendering of it. This way you can see what your product will look like before it goes into production. After the proof has been created, it gets passed off to a sales representative. The sales rep draws up a quote, and emails you it with the proof attached for your review. If you would like to make changes, or if there is an error, simply email us back with the changes you want to see, and we'll add it back to our art queue for revision. Afterwards, we send an updated proof and quote, and the process repeats until you're satisfied with the design and ready to place your order!
How to request a revision
Revisions are free, so if you need to make changes to your custom challenge coin don't hesitate to contact us. There are two ways to submit a revision request. The easiest way is to simply respond to the quote email we send you with the changes you'd like to see, and attach any reference materials you may have. The second way is to call us and submit your revision request over the phone. Either way is fine, so choose which ever works best for you.
3. Approving & Purchasing Your Design
When you're satisfied with the way your custom challenge coin looks, simply respond to your quote email and let us know you are ready to order. We will reply with an email that includes a link you to our payment portal. Simply click the link, fill out your payment information and you're good to go! Once we've received confirmation of your payment we will get started on manufacturing your custom challenge coins.
We can also take payments over the phone if you'd prefer to pay that way. Simply give us a call, provide the sales representative with your payment information and they will assist you with purchasing.
*important note: Before you submit payment for your order, take one last look over the proof to make sure there are no errors and you are happy with everything. Changes cannot be made after we've submitted your project design to the factory for manufacturing as they begin almost immediately.
EXPERIENCE
THE LONE STAR DIFFERENCE
JUST A FEW REASONS WHY LONE STAR IS YOUR BEST CHOICE FOR CUSTOM CHALLENGE COINS…
PERIOD!

FREE QUALITY
ARTWORK

FREE PROOF
& QUOTE

UNLIMITED
REVISIONS

US CUSTOMER
SERVICE

SUPER FAST
SERVICE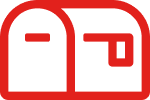 FREE PRIORITY
SHIPPING
100% QUALITY
GUARANTEE

TRANSPARENT
PRICING
SEE WHAT OUR
CUSTOMERS ARE SAYING
"Lone Star Challenge Coins produced a beautiful end result which exceeded my expectations. They were easy to work with and had excellent communications. They listened to my needs and incorporated my changes exactly as I had requested. They also had a very quick turn around time for delivery."
"Such a great company with even greater customer service! Corbin was our salesman and was extremely patient with our agency and way we wanted and he was able to get our challenge coin perfected. On top of that we got our coins the exact date we wanted! Phenomenal service!"
"Extremely easy process. Design team was quick to return proofs and enthusiastic to change proofs when requested. Final product was awesome and really stands out!"
"I recently went through the design process of creating a challenge coin for my unit, and I can say without a doubt that I would recommend Lone Star Challenge Coins for your project."
Highly recommend! Tremendous service, extremely helpful and attentive to details. Had absolutely no issues dealing with their easy step by step process when I ordered my coins and delivery was quick. Overall a great American company, would do business with them again no hesitation.
"I make a lot of purchases for my company and for me, good Customer Service is a must. Lone Star was quick to respond to my inquiry and very accommodating to the revisions I asked. The order arrived as they promised. Then, the coin is just as we designed, and looks awesome! If I could rate them with more than 5 stars, I would!"
From first contact with the guys at Lone Star I felt great about the process. The employees were quick to reply to all questions and the draft process was simple and the coin turned out better than I had even hoped for. Thanks for making the process simple and affordable.
"I looked all over for a place to make custom coins for my business and happen to stumble across Lone Star Challenge Coins. This was the best accidental find, they made my coins exactly how I imagined them. Do yourself a favor and skip looking all over and just go with the Lone Star Challenge Coins. You will be happy with there work!"
"Lone Star Pins and Challenge Coins do quality work and are super easy to deal with. Corbin made our design and ordering process as smooth and effortless as possible. These guys are true professionals but with personal service behind it. I can't say enough great things about Corbin and the folks over at LSPCC."
"They were the 6th company I called with a very very tight deadline for coins for a military graduation. We had the coins in a very short time period with two days to spare. I cannot begin to say how happy I was with the level of customer service, quality of product and honesty from the very beginning. I recommend them to everyone and give them 6 stars!"
Discover the Lone Star Difference
Some standard perks all of our customers can expect with every order:
Our expert sales staff are extremely knowledgeable and can assist you with any question or concern.
Can't draw? No worries! Our talented design experts can add a professional touch to your project.
Free Priority Air shipping on all orders. It's literally the fastest option available… and it's free! 
Free Artwork & Quote! No obligation to purchase, just fill out the quote form to start your project!
If your artwork isn't exactly right just respond to your quote with the changes you want to see.
We stand behind our products! We'll replace any products that don't match the approved design. 
We respond quickly, and products typically take only 7-10 business days to produce.
No Hidden Fees! Our pricing is straightforward. What you are quoted is what you pay.
You can safely purchase through our secure online payment portal. 
We add a level of security and convenience you can't find when buying direct.
Get Your Free Challenge Coin Design Today
SEE WHAT OUR CUSTOMERS ARE SAYING!
Mackenzie Adams
Amazing Detail and Craftsmanship
I couldn't believe the level of detail and craftsmanship in my 3D coin. Amazing work, I'd recommend Lone Star to anyone looking for the best quality product.
Henry Ostrand
High Quality Products!
Great Service and Amazingly High Quality Product!
Karl Fitzgerald
Best Coin Company Out There!
Def go with Lone Star! Customer Service is great and the quality of the artwork provided was way better than other companies I inquired with.
Got a unit patch and it came out good. Got back to me quickly and shipping was super fast!
Devin Stevens
Had an issue, but it was resolved quickly
Everything was good, service, artwork, production speed. I got the products faster than originally quoted which was nice. However, when I checked my coins a few had plating issues. I notified Brian, the sales rep, and he replaced them. Only downside was I had to wait a couple weeks to get them.
Karen Jacobsen
Better than I had hoped!
My Challenge Coin came out better than I had hoped!
Gregory Drost
Will definitely order again
I ordered a deployment buckle for my platoon and it came out awesome! Really great craftsmanship. All my guys love it!
I was astonished how quickly they got back to us! Fantastic service! Giving these guys a A+!
John Wolynski
Very easy to work with
Process was really easy, service was fast and quality was good. Will definitely purchase from them again!
We offer a wide array of options to customize your challenge coin and the options are seemingly endless. So if you're not sure where to start and need some inspiration or guidance you're in the right place! In this section we cover important topics such as manufacturing processes, design limitations, and when to use or avoid certain challenge coin options. That way you can make informed decisions and choose options that best fit your unique challenge coin design!
To color or not to color, that is the question… No seriously, we get that kind of question all the time! Challenge coins don't have to have color to look awesome, but there are a few important things to know. First, it's always a good idea to choose an antique plating finish if you have raised metal text on a die struck challenge coin. The dark recessed areas make the metallic text much more legible.
Here's another good tip. Try to use dark colors for to fill areas that have raised metal text or detailing. This is extra important if you've decided you want to use a polished plating. Polished metal text on a white background is very hard to read! Lastly, know that we have a finite number of colors in our arsenal. This is because we use the Pantone Solid Coating color matching system.
Our artists will match your colors as close as possible, but if you'd like to see what colors are available you can click the link below:
Coin Size & Manufacturability
When designing a custom challenge coin, you have to keep in mind there are certain limitations to ensure your coin is manufacturable. The size of your challenge coin has the biggest impact on it's manufacturability. Text and metal detailing can only be made so small, so choosing a larger coin size will give you more space to work with. You may also want to increase the size of your challenge coin to improve things like legibility. When designing your challenge coin, our artists will try to fit as much detail into the design as possible. However, we will simplify the artwork so that it's manufacturable if it doesn't meet factory specs.
Challenge Coin Plating Options
When designing your challenge coin, changing the plating option can completely alter the look and feel of your coin. Since the challenge coin's plating plays such a vital role in the overall aesthetic of your coin, we've put together this article to help you learn a bit about our available options, and how you can leverage each one to improve your custom challenge coin design. However, before we begin, let's take a quick look at just what a challenge coin's plating is!
High Polished Challenge Coin Plating
All of our polished challenge coin plating options are created using an electroplating process that creates a permanent chemical bond between the plating and the base metal. Polished Gold and Silver are our most popular finishes, but don't forget about copper! If you're looking for a "rose gold" finish, copper is the perfect option. One thing to consider when choosing a polished plating is what colors you will be incorporating into your challenge coin design. All three options look great with dark colored enamel fills because it creates great contrast, but they don't always pair well with lighter colors. This is because there is less contrast between the metal and the color fills, and that can make raised metallic wording harder to read.
Antique Challenge Coin Plating
Our Antique Plating is a wonderful upgrade feature that lends the challenge coin a rustic, worn appearance. They are plated similarly to high polished challenge coins, using the electroplating process. However, after they are finish being plated, they are soaked in an antiquing solution that gives the challenge coins a dull, dark finish. They are then brushed, and this results in raised portions of the challenge coin becoming lighter while the recessed areas remain dark. This significantly increases contrast making raised elements pop (especially on 3D challenge coins). It also increases the legibility of raised metallic text. When someone wants to create a custom challenge coin with either 3D or raised metal text on a die struck coin, we almost always recommend choosing antique plating. This is because it vastly improves legibility, and makes 3D detailing much more exquisite.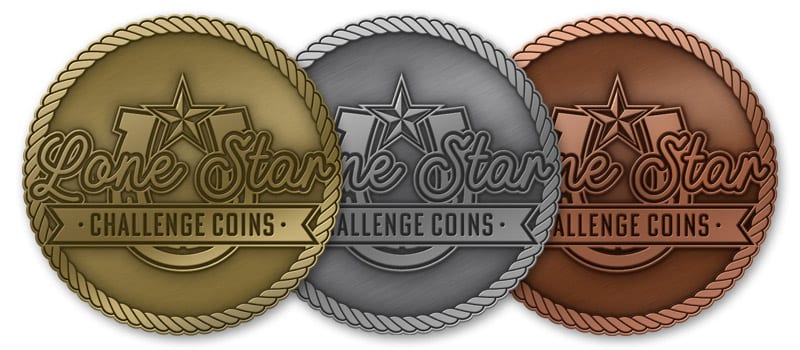 Dark Metal Challenge Coin Plating
We have two different types of dark metal challenge coin plating options, black nickel and black metal, and they seriously couldn't be any more different! Black nickel is a dark polished plating that uses the same electroplating process as our other polished plating options. It is the go-to option for anyone looking for a hard enamel challenge coin with dark lines. Black Metal is created using a different plating process and because of that, it can only be used to make soft enamel challenge coins. The real deciding factor though generally comes down to two questions: How dark do you want your coin? and do you prefer a polished or matte plating finish? Black Nickel is more of a dark gray, closely resembles a gun metal color, while Black metal is pitch black and significantly darker. Black Metal also doesn't have a shiny, polished finish like that of it's black nickel counterpart. Either way you go, however, both make wonderful plating options!
Specialty Challenge Coin Plating
We offer three types of specialty plating options: dual plating, colored metal and anodized metal (which is commonly referred to as rainbow metal). Dual Plating is when we combine two different plating options. Our most popular dual plating option is antique and polished gold and silver combinations. The only real restraint is when choosing metal combinations you have to stick to one plating type. This means that you can't have polished gold with antique silver, or visa versa. For example, anodized metal can't be dual plated because it is created using an electrochemical plating process that is unique to itself. You can go crazy though with metal combinations! Some of our favorite, and less ordered options, include black nickel with gold and black nickel with copper. The vibrant colors of the polished gold and copper really pop off of the dark shiny black nickel finish. Lastly, colored metal is just that, metal made any color you want! It's not a commonly ordered option, but we can use the same powder coating plating process that we use to make black metal to make red, blue or even green metal.
Challenge Coin Edge Options
Adding an edge to your coin makes a significant difference in it's overall appearance. In general it gives the coin a much more clean, professional look. Some edges are free, but the ones that really make your coin stand out are created by a special machine that cuts the edge into the coin. This is why they cost a little extra. The cost of edges are still relatively cheap compared to some of our other upgrade options, so for those looking to vastly improve the look and feel of their coin without a significant up-charge, adding an edge to your custom challenge coin is the way to go!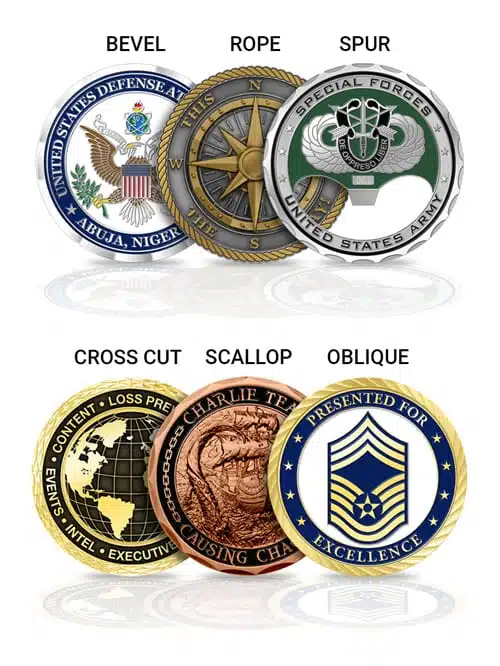 Lone Star Challenge Coins offer a large array of customization options, but our most popular challenge coin upgrade option is hands down 3D! Over the last few years it has quickly become the most popular option because nothing else adds the same level of depth and character to your coin. Adding multilevel 3D relief to your challenge coin brings elements of your design to life as they literally pop off your coin! 
Adding Color to 3D Reliefs
If you really want to take your custom challenge coin design to the next level, you can add color to the 3D portion using translucent enamel. If you're not familiar with translucent enamel, it's simply enamel that allows light to pass through it. As a result, it reveals all the intricate detailing on the metal surface below, and gives it a stained glass look. This is why it's ideal for coloring challenge coins that have a texture or 3D relief. 
UPGRADE BY ADDING SPECIALIZED COLOR EFFECTS
Adding tranlucent or glow enamel to your coin can add some really interesting effects to it. We offer an array of colors for both, and depending on how you use them you can create some serioulsy cool effects! For instance, adding transllucent to a polished coin makes the color more vibrant, or adding glow enamel to a dark metal such as black nickel or black metal makes the colors really pop!
Translucent Enamel for Challenge Coins is a very versatile option. You can make a number of interesting effects, but in order to do so it helps to know a few things. First, the plating matters. Translucent on polished metals are very vibrant, and have a deeper rich tone on antique finishes. Try to avoid black metal or black nickel when using translucent enamel however as the dark color makes the colors very dark and hard to see. Another thing to consider is the color of the metal. Translucent coloring on a copper coin, for instance, will take on a reddish hue.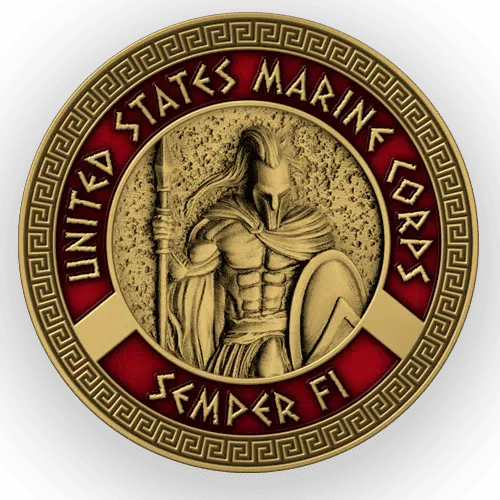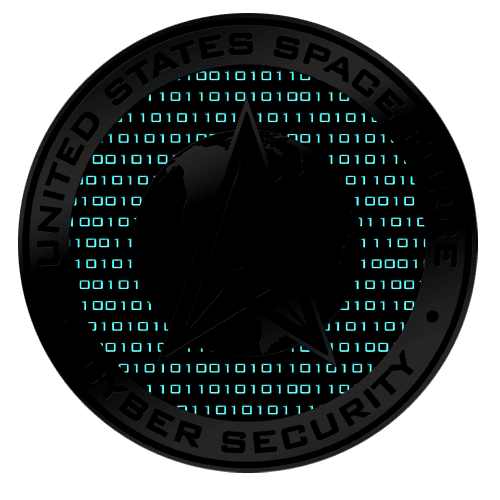 Glow-in-the-Dark enamel is a little more straight forward than translucent. It isn't see through so you can use it on any metal. Unlike translucent, it actually works best on dark metals such as black nickel or black metal. Another difference is, where translucent can be made with any Pantone Solid Coated color, Glow Enamel has a very select number of available colors. One color that we don't have, but is requested frequently, is red. We have White, Pink, Purple, Green, Yellow, Blue and Orange, but unfortunately Red doesn't glow well.
Customizing the Shape of Your Coin
Another fantastic way to make your custom challenge coin unique and exciting is by having it cut to shape. Although challenge coins are traditionally round, we can make your them in any shape imaginable. Cut to shape challenge coins have been growing in popularity and are a great way to highlight things that are near and dear to you such as state, mascot, unit logo, etc. So if you'd like yours to have a unique shape, just mention it to us in your quote inquiry and we'll handle the rest! 
Adding in a Bottle Opener
You can incorporate a bottle opener to almost any challenge coin design imaginable. The one stipulation is that, for it to be functional and effective, it must be a minimum of 2.25". One thing to also consider is that the cut out created to incorporate the bottle opener takes away from overall surface area of your coin. This means you'll have less space to fit your design elements such as text, logos, insignias, etc. If you want to add a bottle opener to your design, just make sure to check the option when filling out the quote form and we'll fit it into your challenge coins' design!
We can add numbering on either the face of your challenge coin, or along the edge. Adding it to the edge is a good idea if you want it to be less noticeable, or if your design is a bit complex. There are various reasons people number their coins, but the most common is as a reminder the people awarded that they are of a select chosen few.

If you're looking to add personalized text to a coin custom engraving is the way to go. Normally text is created by adding it to the mold and it is stamped into the coin. Long story short, you'll need a mold for each separate coin if you want different wording on each of your coins, and molds aren't cheap! This is why engraving is a much more cost effective way of adding a personal touch to your coin. Also, since we keep molds on file, you can engrave something like a date to save money on future mold costs. We can engrave anywhere on the metal surface of the coin including the edges! 
Some Less Common Options to Consider...
Seriously, what is cooler than having your own custom bottle opener that represents you and your squad? These are a highly sought after upgrade option simply because it adds fun and utility to your already awesome Challenge Coin. These are great for gifts for all types of situations such as award ceremonies, military balls, employee recognition events and more. Nothing is more satisfying than sitting back after a hard days work with your pals and cracking open a cold one!
Epoxy Coating is a clear epoxy resin added over the surface of the coin to produce a hard layer of plastic that helps protect the enamel from damage. There are some drawbacks such as it can discolor over time, and it makes it so that your coin can no longer be engraved except on the edges.
Silk Screen is mostly used for capturing small details that would otherwise not be producible. It can also be used for adding text that varies coin to coin so  that you don't have to create a new mold for each coin (which would be insanely expensive).
Offset Printed coins are produced by printing an image onto an adhesive photo paper, inlaying it on the coin, and covering it with a protective layer of epoxy resin. They are great for images of loved ones, or any other time you want a photo realistic image.
Most coins are soft enamel, but for those looking for a more sophisticated look and feel, hard enamel is a great option to add! The difference is the enamel is filled flush with the metal and then polished , creating a smooth, elegant surface.
Epoxy Coating is a clear epoxy resin added over the surface of the coin to produce a hard layer of plastic that helps protect the enamel from damage. There are some drawbacks such as it can discolor over time, and it makes it so that your coin can no longer be engraved except on the edges.
Silk Screen is mostly used for capturing small details that would otherwise not be producible. It can also be used for adding text that varies coin to coin so  that you don't have to create a new mold for each coin (which would be insanely expensive).
Offset Printed coins are produced by printing an image onto an adhesive photo paper, inlaying it on the coin, and covering it with a protective layer of epoxy resin. They are great for images of loved ones, or any other time you want a photo realistic image.