FREE SHIPPING • UNLIMITED • FAST SERVICE • COMPETITIVE PRICING
100% TEXAS BASED STAFF & VETERAN MANAGED
Want more tips? Check out our comprehensive guide for more ideas on how to customize your challenge coin.
All great designs begin with an idea. Due to the customized nature of our products, we can only give you an accurate quote after creating a proof. Send us your design vision, which can be nothing more than a concept, and we'll develop it for you.
We offer free, high-quality artwork to every customer, and our team works until you're 100% satisfied. Take advantage of our unlimited revisions guarantee.
Once our design team has completed your design, we'll send a proof with the challenge coin cost. Our challenge coin prices are tailored to the job, varying based on intricacy, metal, finish, and any other special additions you want to include.
If you're unsatisfied with the proof, get back to us, and we'll revise your design until you get the coin you want.
Are you satisfied with the design in front of you? Give us the green light, and we'll get to work producing your pins. We offer various payment methods to suit your needs, including taking payments over the phone. From the moment we receive your payment, manufacturing your pins can take up to 14 business days, depending on the number ordered and how many other orders we're completing. Shipping usually takes 2-3 days.
GET YOUR FREE CUSTOM DESIGN


& QUOTE TODAY!
J and jarren
10 November 2023
My class spent well over $9,000 on our class coins. First issue, they didn't get them to us in a timely manner. We received them barely in time for graduation. Second, they sent us coins with a misspelled word (brave) as seen in the picture. Third issue, a lot of the spinners came broken, also as seen in the picture. When I reached out to the company, they claim sending replacement coins out at a later date is rectifying of this situation. Very empathetic to the situation at hand overall. Not very professional at all, terrible business practices and they definitely will not receive future business from me nor any recommendations either. Zero stars
I found this company last year after a recommendation from a friend and I've ordered several times now. What keeps me coming back is the high level of customer service and responsiveness in the projects that have been created. The work product is also great and the quality of the coins, detail and just overall, I am very pleased with. This is my GO TO shop now for coins. Please check them out, you will not be disappointed! PS. Big shout to Corbin for his amazing guest service!
Stephen Ryan
25 October 2023
This company is fantastic! I reached out to them to create a custom shaped coin with custom artwork that they had put together for me. The coins are a Veteran's Day thank you token for those who served at our company. We will definitely be returning for future orders. From start to finish, they were very open with communication, extremely fast to respond to concerns and questions, and lastly delivered something that blew us out of the water. Thank you so much!
Alejandra O'Connor
25 October 2023
I ordered challenge coins on behalf of my government agency. Lone Star was easy to work with and did amazing things with the graphics I sent. They turned the artwork around quickly and each time it was better than what we had hoped for. We did have several back and forth messages to get the coin exactly as we wanted it. Our representative was so patient with us and had excellent customer service. We also got the coins in the mail quickly. Working with Lone Star was a wonderful experience end-to-end.
Italy Mair
18 October 2023
Great service, great communication, and great products! Would definitely recommend them.
Rafael Moronta
13 October 2023
Amazing artwork.. aside from the product what I loved most of our experience was the flexibility to create a coin that's exceeds your own expectations. Thank you guys so much for making the process seamless and affordable!
Absolutely fantastic company to work with. Communication was always quick, and the final product looked even better than the proof did. 10/10 would recommend!
ALISON BOLAND
26 September 2023
I engaged with Lone star challenge coins to make coins for my fiancé's celebration of life. I was pretty clueless about design, and they provided the perfect design. The coins arrived in time, and we were more than satisfied with the outcome. Their customer service was excellent as well. They guided me (held my hand) throughout the process, and were quick to respond. I cannot say enough about their product and company.
Debbie Avinger
26 September 2023
We are so grateful for the work Lone Star Challenge Coins did for our nonprofit fundraising event! They worked with our budget and gave us medals with ribbons and challenge coins that were better than we expected.
Dan Kiser
22 September 2023
Corbin was very combative when I explained that the design provided was not at all reflective of the requests that I provided on the Inquiry form. Based on the customer service alone during that 1 phone call, I am not inclined to pursue any business with this company. EDIT: I spoke to the owner, Mike, and he helped rectify the situation and framed it as a learning opportunity for his team. This is a good reminder that people make mistakes but first impressions matter.
*All personal information submitted through our forms are used for internal use only. We never share any of your information with a third-party under any circumstances. For more information please review our
terms & conditions/privacy policy page
.
EXPERIENCE
THE LONE STAR DIFFERENCE
JUST A FEW REASONS WHY LONE STAR IS YOUR BEST CHOICE FOR CUSTOM CHALLENGE COINS…
PERIOD!

FREE QUALITY
ARTWORK

FREE PROOF
& QUOTE

UNLIMITED
REVISIONS

US CUSTOMER
SERVICE

SUPER FAST
SERVICE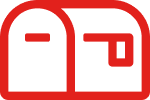 FREE PRIORITY
SHIPPING
100% QUALITY
GUARANTEE

TRANSPARENT
PRICING
To color or not to color, that is the question… No seriously, we get that kind of question all the time! Challenge coins don't have to have color to look awesome, but there are a few important things to know. First, it's always a good idea to choose an antique plating finish if you have raised metal text on a die struck challenge coin. The dark recessed areas make the metallic text much more legible.
Here's another good tip. Try to use dark colors for to fill areas that have raised metal text or detailing. This is extra important if you've decided you want to use a polished plating. Polished metal text on a white background is very hard to read! Lastly, know that we have a finite number of colors in our arsenal. This is because we use the Pantone Solid Coating color matching system.
Our artists will match your colors as close as possible, but if you'd like to see what colors are available you can click the link below:
Coin Size & Manufacturability
When designing a custom challenge coin, you have to keep in mind there are certain limitations to ensure your coin is manufacturable. The size of your challenge coin has the biggest impact on it's manufacturability. Text and metal detailing can only be made so small, so choosing a larger coin size will give you more space to work with. You may also want to increase the size of your challenge coin to improve things like legibility. When designing your challenge coin, our artists will try to fit as much detail into the design as possible. However, we will simplify the artwork so that it's manufacturable if it doesn't meet factory specs.
Challenge Coin Plating Options
When designing your challenge coin, changing the plating option can completely alter the look and feel of your coin. Since the challenge coin's plating plays such a vital role in the overall aesthetic of your coin, we've put together this article to help you learn a bit about our available options, and how you can leverage each one to improve your custom challenge coin design. However, before we begin, let's take a quick look at just what a challenge coin's plating is!
High Polished Challenge Coin Plating
All of our polished challenge coin plating options are created using an electroplating process that creates a permanent chemical bond between the plating and the base metal. Polished Gold and Silver are our most popular finishes, but don't forget about copper! If you're looking for a "rose gold" finish, copper is the perfect option. One thing to consider when choosing a polished plating is what colors you will be incorporating into your challenge coin design. All three options look great with dark colored enamel fills because it creates great contrast, but they don't always pair well with lighter colors. This is because there is less contrast between the metal and the color fills, and that can make raised metallic wording harder to read.
Antique Challenge Coin Plating
Our Antique Plating is a wonderful upgrade feature that lends the challenge coin a rustic, worn appearance. They are plated similarly to high polished challenge coins, using the electroplating process. However, after they are finish being plated, they are soaked in an antiquing solution that gives the challenge coins a dull, dark finish. They are then brushed, and this results in raised portions of the challenge coin becoming lighter while the recessed areas remain dark. This significantly increases contrast making raised elements pop (especially on 3D challenge coins). It also increases the legibility of raised metallic text. When someone wants to create a custom challenge coin with either 3D or raised metal text on a die struck coin, we almost always recommend choosing antique plating. This is because it vastly improves legibility, and makes 3D detailing much more exquisite.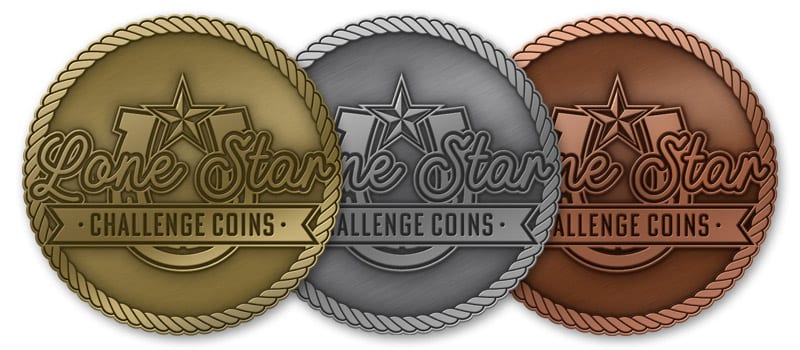 Dark Metal Challenge Coin Plating
We have two different types of dark metal challenge coin plating options, black nickel and black metal, and they seriously couldn't be any more different! Black nickel is a dark polished plating that uses the same electroplating process as our other polished plating options. It is the go-to option for anyone looking for a hard enamel challenge coin with dark lines. Black Metal is created using a different plating process and because of that, it can only be used to make soft enamel challenge coins. The real deciding factor though generally comes down to two questions: How dark do you want your coin? and do you prefer a polished or matte plating finish? Black Nickel is more of a dark gray, closely resembles a gun metal color, while Black metal is pitch black and significantly darker. Black Metal also doesn't have a shiny, polished finish like that of it's black nickel counterpart. Either way you go, however, both make wonderful plating options!
Specialty Challenge Coin Plating
We offer three types of specialty plating options: dual plating, colored metal and anodized metal (which is commonly referred to as rainbow metal). Dual Plating is when we combine two different plating options. Our most popular dual plating option is antique and polished gold and silver combinations. The only real restraint is when choosing metal combinations you have to stick to one plating type. This means that you can't have polished gold with antique silver, or visa versa. For example, anodized metal can't be dual plated because it is created using an electrochemical plating process that is unique to itself. You can go crazy though with metal combinations! Some of our favorite, and less ordered options, include black nickel with gold and black nickel with copper. The vibrant colors of the polished gold and copper really pop off of the dark shiny black nickel finish. Lastly, colored metal is just that, metal made any color you want! It's not a commonly ordered option, but we can use the same powder coating plating process that we use to make black metal to make red, blue or even green metal.
Challenge Coin Edge Options
Adding an edge to your coin makes a significant difference in it's overall appearance. In general it gives the coin a much more clean, professional look. Some edges are free, but the ones that really make your coin stand out are created by a special machine that cuts the edge into the coin. This is why they cost a little extra. The cost of edges are still relatively cheap compared to some of our other upgrade options, so for those looking to vastly improve the look and feel of their coin without a significant up-charge, adding an edge to your custom challenge coin is the way to go!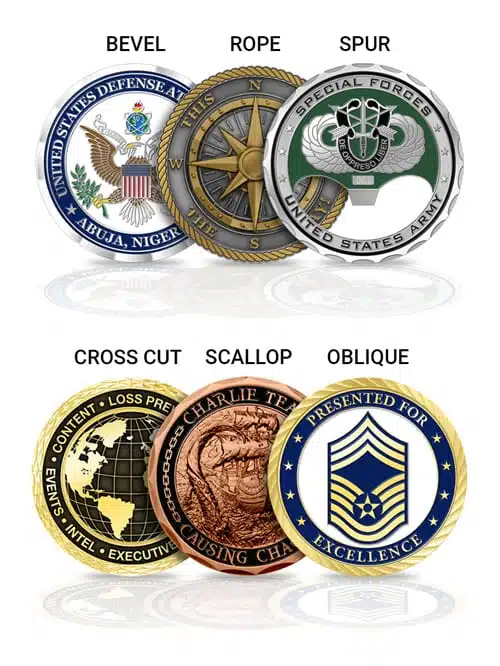 Lone Star Challenge Coins offer a large array of customization options, but our most popular challenge coin upgrade option is hands down 3D! Over the last few years it has quickly become the most popular option because nothing else adds the same level of depth and character to your coin. Adding multilevel 3D relief to your challenge coin brings elements of your design to life as they literally pop off your coin! 
Adding Color to 3D Reliefs
If you really want to take your custom challenge coin design to the next level, you can add color to the 3D portion using translucent enamel. If you're not familiar with translucent enamel, it's simply enamel that allows light to pass through it. As a result, it reveals all the intricate detailing on the metal surface below, and gives it a stained glass look. This is why it's ideal for coloring challenge coins that have a texture or 3D relief. 
UPGRADE BY ADDING SPECIALIZED COLOR EFFECTS
Adding translucent or glow enamel to your coin can create some exciting effects. We offer an array of colors for both, and depending on how you use them, you can create some seriously cool effects! For instance, adding translucent to a polished coin makes the color more vibrant, or adding glow enamel to a dark metal such as black nickel or black metal makes the colors pop!
Translucent Enamel for Challenge Coins is a very versatile option. You can make several exciting effects, but to do so, it helps to know a few things—first, the plating matters. Translucent enamel on polished metals is more vibrant but takes on a deep, rich tone when applied to antique finishes. However, avoid black metal or nickel when using translucent enamel, as the dark color makes the colors very dark and hard to discern. One other thing to consider is the color of the metal. For instance, translucent coloring on a copper coin will take on a slight reddish hue.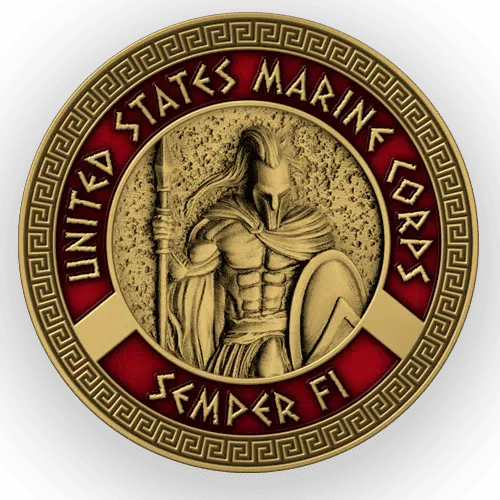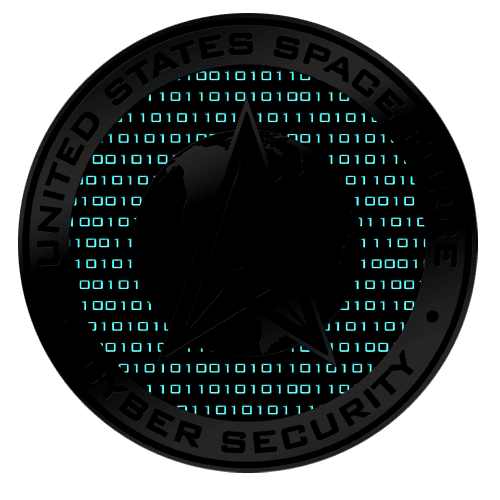 Glow-in-the-Dark enamel is an upgrade option that can help create really cool effects. From glowing binary numbers denoting a cyber division to glowing fingerprints often seen on criminal investigative coins, it can make an ordinary challenge coin extraordinary. Like translucent colors, we have limited glow colors to choose from.
Customizing the Shape of Your Coin
Another fantastic way to make your custom challenge coin unique and exciting is by having it cut to shape. Although challenge coins are traditionally round, we can make your them in any shape imaginable. Cut to shape challenge coins have been growing in popularity and are a great way to highlight things that are near and dear to you such as state, mascot, unit logo, etc. So if you'd like yours to have a unique shape, just mention it to us in your quote inquiry and we'll handle the rest! 
Adding in a Bottle Opener
You can incorporate a bottle opener to almost any challenge coin design imaginable. The one stipulation is that, for it to be functional and effective, it must be a minimum of 2.25". One thing to also consider is that the cut out created to incorporate the bottle opener takes away from overall surface area of your coin. This means you'll have less space to fit your design elements such as text, logos, insignias, etc. If you want to add a bottle opener to your design, just make sure to check the option when filling out the quote form and we'll fit it into your challenge coins' design!
We can add numbering on either the face of your challenge coin, or along the edge. Adding it to the edge is a good idea if you want it to be less noticeable, or if your design is a bit complex. There are various reasons people number their coins, but the most common is as a reminder the people awarded that they are of a select chosen few.

If you're looking to add personalized text to a coin custom engraving is the way to go. Normally text is created by adding it to the mold and it is stamped into the coin. Long story short, you'll need a mold for each separate coin if you want different wording on each of your coins, and molds aren't cheap! This is why engraving is a much more cost effective way of adding a personal touch to your coin. Also, since we keep molds on file, you can engrave something like a date to save money on future mold costs. We can engrave anywhere on the metal surface of the coin including the edges! 
Some Less Common Options to Consider...
Hard Enamel is an alternative to Soft Enamel, the typical coloring style used on challenge coins. Hard Enamel is often used on pins to give them a luxurious, jewelry-like finish. The main difference is that, unlike Soft Enamel, the colored recessed areas are layered with enamel until it becomes flush with the raised metal and then are plated and polished. It gives the coin's surface a smooth feel and a more refined, elegant touch!
Epoxy Coating is a clear epoxy resin added over the coin's surface to produce a hard layer of plastic that helps protect the enamel from damage. There are some drawbacks, such as it can discolor over time.
Silkscreen is mainly used to capture small details that would otherwise not be producible. It can also add text that varies from coin to coin so that you don't have to create a new mold for each coin (which would be extremely expensive).
Offset Printed coins are produced by printing an image onto an adhesive photo paper, inlaying it on the coin, and covering it with a protective layer of epoxy resin. They are great for pictures of loved ones or any time you want a realistic photo.
New Years Day, Independence Day, Thanksgiving (Thurs & Fri), Christmas Eve & Christmas Day