100%Texas Based Staff & Veteran Managed!
CREATING YOUR COINS


IS EASY AS 1-2-3
Ready to create your own challenge coin? Follow our three-step process or visit our dedicated customization page for more information on the options available to bring your challenge coin design to life.
All great designs begin with an idea. Due to the customized nature of our products, we can only give you an accurate quote after creating a proof. Send us your design vision, which can be nothing more than a concept, and we'll develop it for you.
We offer free, high-quality artwork to every customer, and our team works until you're 100% satisfied. Take advantage of our unlimited revisions guarantee.
Once our design team has completed your design, we'll send a proof with the challenge coin cost. Our challenge coin prices are tailored to the job, varying based on intricacy, metal, finish, and any other special additions you want to include.
If you're unsatisfied with the proof, get back to us, and we'll revise your personalized challenge coin design until you get the one you want.
Are you satisfied with the design in front of you? Give us the green light, and we'll get to work producing your coins. When you're ready to order your challenge coins, we offer various payment methods to suit your needs, including taking payments over the phone.
From the moment we receive your payment, manufacturing your pins can take up to 14 business days, depending on the number of custom-made challenge coins ordered and how many other orders we're completing. Shipping usually takes 2-3 days.


WE TURN YOUR COIN


IDEAS INTO A REALITY
GET A FREE QUOTE IN 24 HRS OR LESS WITH UNLIMITED REVISIONS AND NO COMMITMENT TO BUY… SO, WHAT'S THERE TO LOSE RIGHT?
GET YOUR FREE CUSTOM DESIGN


& QUOTE TODAY!
J and jarren
10 November 2023
My class spent well over $9,000 on our class coins. First issue, they didn't get them to us in a timely manner. We received them barely in time for graduation. Second, they sent us coins with a misspelled word (brave) as seen in the picture. Third issue, a lot of the spinners came broken, also as seen in the picture. When I reached out to the company, they claim sending replacement coins out at a later date is rectifying of this situation. Very empathetic to the situation at hand overall. Not very professional at all, terrible business practices and they definitely will not receive future business from me nor any recommendations either. Zero stars
I found this company last year after a recommendation from a friend and I've ordered several times now. What keeps me coming back is the high level of customer service and responsiveness in the projects that have been created. The work product is also great and the quality of the coins, detail and just overall, I am very pleased with. This is my GO TO shop now for coins. Please check them out, you will not be disappointed! PS. Big shout to Corbin for his amazing guest service!
Stephen Ryan
25 October 2023
This company is fantastic! I reached out to them to create a custom shaped coin with custom artwork that they had put together for me. The coins are a Veteran's Day thank you token for those who served at our company. We will definitely be returning for future orders. From start to finish, they were very open with communication, extremely fast to respond to concerns and questions, and lastly delivered something that blew us out of the water. Thank you so much!
Alejandra O'Connor
25 October 2023
I ordered challenge coins on behalf of my government agency. Lone Star was easy to work with and did amazing things with the graphics I sent. They turned the artwork around quickly and each time it was better than what we had hoped for. We did have several back and forth messages to get the coin exactly as we wanted it. Our representative was so patient with us and had excellent customer service. We also got the coins in the mail quickly. Working with Lone Star was a wonderful experience end-to-end.
Italy Mair
18 October 2023
Great service, great communication, and great products! Would definitely recommend them.
Rafael Moronta
13 October 2023
Amazing artwork.. aside from the product what I loved most of our experience was the flexibility to create a coin that's exceeds your own expectations. Thank you guys so much for making the process seamless and affordable!
Absolutely fantastic company to work with. Communication was always quick, and the final product looked even better than the proof did. 10/10 would recommend!
ALISON BOLAND
26 September 2023
I engaged with Lone star challenge coins to make coins for my fiancé's celebration of life. I was pretty clueless about design, and they provided the perfect design. The coins arrived in time, and we were more than satisfied with the outcome. Their customer service was excellent as well. They guided me (held my hand) throughout the process, and were quick to respond. I cannot say enough about their product and company.
Debbie Avinger
26 September 2023
We are so grateful for the work Lone Star Challenge Coins did for our nonprofit fundraising event! They worked with our budget and gave us medals with ribbons and challenge coins that were better than we expected.
Dan Kiser
22 September 2023
Corbin was very combative when I explained that the design provided was not at all reflective of the requests that I provided on the Inquiry form. Based on the customer service alone during that 1 phone call, I am not inclined to pursue any business with this company. EDIT: I spoke to the owner, Mike, and he helped rectify the situation and framed it as a learning opportunity for his team. This is a good reminder that people make mistakes but first impressions matter.
*All personal information submitted through our forms are used for internal use only. We never share any of your information with a third-party under any circumstances. For more information please review our
terms & conditions/privacy policy page
.
EXPERIENCE
THE LONE STAR DIFFERENCE
JUST A FEW REASONS WHY LONE STAR IS YOUR BEST CHOICE FOR CUSTOM CHALLENGE COINS…
PERIOD!

FREE QUALITY
ARTWORK

FREE PROOF
& QUOTE

UNLIMITED
REVISIONS

US CUSTOMER
SERVICE

SUPER FAST
SERVICE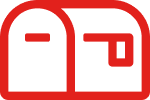 FREE PRIORITY
SHIPPING
100% QUALITY
GUARANTEE

TRANSPARENT
PRICING
REACH OUT NOW TO GET STARTED WITH A FREE PROOF & QUOTE TODAY!
Ready to create your challenge coins? Lone Star Challenge Coins is the custom challenge coin maker that goes the extra mile to make your ideas a reality. Once you choose us as your challenge coins company, you gain free access to high-quality artwork and free priority shipping.
Review, revise, and proof as often as you like until we get it right. Whether you're looking to support your local baseball team, bring together your old Navy buddies, or express some corporate pride, create a challenge coin to match your vision.
Take advantage of unbeatable customer service and support an American business staffed by proud veterans.
Follow our easy 1-2-3 design process to make challenge coins now.
MAKE YOUR COIN STAND OUT!


PERSONALIZE YOUR COIN WITH UPGRADE OPTIONS
We know how special your coin is to you and those who receive it. Challenge coins can be used for rewarding someone for excellence, memorializing a special person of great importance, or celebrating a special event, and we want the significance of your project to shine through. If you want to commemorate a special individual or occasion, our challenge coin designer online service is the perfect starting point for creating a lasting tribute. We offer various options to help you customize your project and give it that unique touch. If you have any questions or would like professional feedback, call or reach out to us, and we would be honored to assist you with creating your project.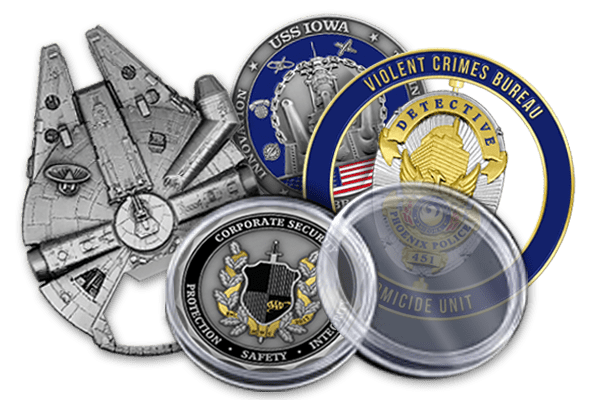 How long does it take to create challenge coins?
The process of creating your challenge coins, custom-designed with our challenge coin creator, typically spans three weeks from the moment we receive your payment to the time you have your coins in hand. Designing your unique coin can take anywhere from a few days to several weeks, as we work diligently to ensure every detail of your vision is captured perfectly.
The coins' production averages 14 days, but it can vary based on whether you want to make a challenge coin with a simple plastic finish or a more complex gold 3D pin.
How long until I receive my custom coin order?
We make challenge coins custom-made, meaning we can't accept refunds for any reason after the proof has been accepted. The customized nature of these products means that, unlike standardized product lines, we can't accept returns and sell them to someone else.
Do you have a minimum order quantity?
Yes. The minimum order is 100 pins or 50 custom challenge coins. Sometimes, we allow an account to order under the minimum order quantity. These exceptions are rare and given on a case-by-case basis. This shouldn't be expected as part of our standard business practices.
What options are there for an upgraded challenge coin?
When looking for challenge coins for sale, you deserve a product as exceptional as the individuals or events you're commemorating. We believe in providing an array of customization options to ensure each piece we craft is unique. Our antique finishes enhance the intricate details of your design, offering a timeless, revered look. For those seeking a more tactile experience, our 3D relief option imbues your coin with depth and character, a feature that sets us apart from other challenge coin manufacturers. 
Personalization is key in making each coin unique, and options like sequential numbering or custom engraving transform each coin into a personal memento. Our color effects, particularly the translucent enamel, add sophistication and vibrancy, especially for colored 3D designs.
What occasions are challenge coins best for?
Challenge coins have a storied history and are steeped in tradition, primarily used to honor exceptional achievements and commemorate noteworthy occasions. In the armed forces, these military coins are an integral part of the recognition culture, often given to service members to celebrate special accomplishments, signify membership in exclusive units, or simply solidify the bonds shared by unit members. Beyond the military, these coins have found purpose in various organizations, serving as symbols of recognition, courage, and unity among first responders, corporate members, and clubs. 
Challenge coins are versatile in size and design, making them ideal for various applications, from being poignant reminders of personal milestones to acting as fundraising tools for organizations. They're frequently used at events, either as tokens of participation or souvenirs, ensuring attendees or members have a unique and tangible reminder of their involvement. The size of the coins can also be customized to suit the occasion. You can opt for a bold, eye-catching diameter or a subtle, understated one to suit your preference. This adaptability ensures that, whether they're used within high-stakes military contexts or in local sports clubs, challenge coins retain their value as cherished symbols of belonging and achievement for all members involved.
New Years Day, Independence Day, Thanksgiving (Thurs & Fri), Christmas Eve & Christmas Day