Help Improve Employee Productivity and Relations
Rewarding employees for a job well done isn't just good for morale. It's good for business! Everyone knows happy employees make happy customers. So reward your employees with a custom employee recognition challenge coin that serves as a constant reminder of your appreciation!
Employee recognition programs drive employee engagement, build trust and respect with management, and create positive workplace environments. All that equates to better employee retention and productivity, leading to increased profitability. Help strengthen your team and improve their performance with employee recognition challenge coins.
What are Employee Recognition Challenge Coins?
It has become customary for military leaders such as platoon leaders and company commanders to reward their team members for extraordinary performance. They've found that rewarding excellence positively impacts a team's overall performance and sense of unity. Like many other traditions, employee recognition coins emerged from military veterans transitioning back to civilian life.
As military personnel transition back into civilian life, they often get jobs with corporations or create their own businesses. Here, they lead teams and reward their employees or team members with employee recognition coins. In the military, challenge coins strengthen teams by rewarding individual members and creating a sense of unity. It should come as no surprise then, that the tradition of challenge coins would have a similar positive impact with corporate teams as there are many parallels between the two.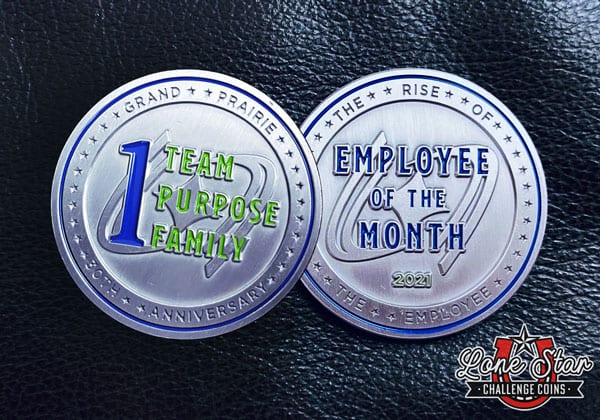 Some Appropriate Occasions for Employee Recognition Challenge Coins:
In the military, soldiers are often awarded a challenge coin for things such as important milestones and going above and beyond the call of duty. It's very much the same in a corporate environment. Here is a list of typical occasions when employees are awarded with a recognition coin:

Employee or company anniversaries
Acquiring a significant business account
In recognition of a raise or promotion
Completing a training program
Acquiring a new skillset
Completing an important project
Being recognized as "Employee of the Month"
Achieving an important sales or production goal
Going above and beyond
Design Your Own Custom Corporate Coin
Our design process was created with our customers in mind. We made it as easy, and straightforward as possible. If you aren't sure about the design, and would like some professional advice, just mention it in your inquiry and our art and sales teams will help you build your custom challenge coin.
STEP 1: Submit Your Inquiry
There are several different ways to do this. You can submit your inquiry on our website's quote page, send us an email directly or via one of our website contact forms, or you can simply call us. When you submit an inquiry we will need your personal contact information, a description of the design, and any reference materials you may have. If you just have a rough idea, that's fine! Let us know and we can work with you on transforming it into a finished product.
STEP 2: The Design Process
Once you get your project idea to us, our talented design team works on mocking up a design for you, and the sales team puts together a quote. It usually takes less than 24 hours to do this, but sometimes it can take up to 48 hours if we're super busy. Once we're done, we send the design and quote to your email for your consideration.

STEP 3: Revising and Ordering Your Design
If you would like to see any changes simply reply to your email with the changes you'd like to see and we'll get started on revising your artwork. If the changes affect the price of your challenge coin, we'll send you an updated quote as well. Once everything looks good, and you'd like to purchase the design, simply email us and we will send you a link to submit payment.
Why Partner with Lone Star Challenge Coins?
There are plenty of reasons to partner up with Lone Star Challenge Coins. Not only are we Texas' #1 challenge coin manufacturer with over 10 years of industry experience, but we understand our customers and know the products we design and create are a source of pride and honor to those who receive them.
We understand this because we have either lived it ourselves or have people close to us that have. Our sales manager is a USCG veteran, and our art director has a brother who has been serving in the Army for over 12 years. Whether your coin is meant to reward excellence in the line of duty, or to show employee appreciation, we will always work diligently to make sure that its significance shines through in your design.